Elegant Radfahren bei jedem Wetter: Mit dem 1DRY2 tragen Sie bei gutem Wetter einen elegant leichten Mantel, der sich bei Regen schnell & einfach in einen schön geschnittenen Overall verwandelt.
Das Besondere - auch nach der Rückumwandlung vom Overall in den Mantel bleiben alle nassen Flächen aussen!
Eine Kapuze, die Ihren Fahrradhelm umschließt,  Kettenschutz & ansetzbares Rücklicht sorgen dafür, dass Sie Ihr Ziel sicher und trocken erreichen.

1DRY2 Manteloverall is a changeable garment. Put it on as an elegant light coat in good weather, convert it quickly & easily in case of rain into a perfectly tailored overall.
Stay completely dry & safe on your bike with this single piece of clothing and forgett about your car.
► 30 Second Presentation
at the Entrepreneurship Summit Berlin: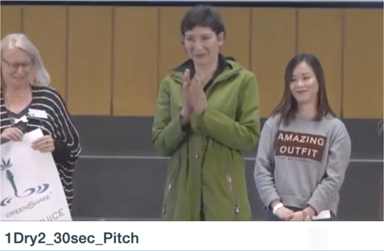 After you simply turn it back into a coat, all wet surfaces will face outwards - so your dress always stays completely dry!
An integrated rear light, a chain guar, flexible adjustment of cap and waist. Wear a helmet under the hood.
Look awesome in any weather and forget about your car.

1Dry2 is a registered design model and there is an option for licensing.
For further informations please contact Bianca Gabriel